Freight Forwarding Blog
Articles about the export shipping industry
January 27, 2014
Welcome to UniWorld's Freight Forwarding Blog!
We are excited to announce the start of our blog to keep our clients informed about the latest export industry trends and regulations.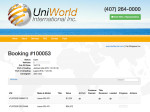 This is where we'll announce new features we offer our clients. For starters, RoRo exporters should check out our new vehicle tracking system. It will streamline the way you do business, giving you more time to focus on the important parts of your company instead of the logistic details. And don't forget about our always-up-to-date RoRo sailing schedules.
We'll also discuss emerging export opportunities for businesses looking to grow into an international market. For example, the US government is offering a free webinar about lighting and electrical exports to China. If you're interested,  you can sign up at export.gov.  There's also a webinar about on Brazil's aerospace sector. Remember to come back here afterwards, and we can help you with all the logistics.
If there's anything else you'd like to hear about, please let us know in the comments.